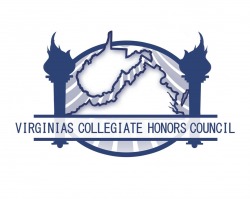 ---
ANNOUNCEMENT: VCHC Honor Scholar of the Year Award
Submission Deadline: January 30, 2015

The Honors Scholar of the Year will be awarded to a student from a member institution that successfully embodies the scholarship, character, and ambition associated historically with honors students and the VCHC.
Each member institution may nominate one Honors student from their campus. The process by which an institution selects their nominee is an institutional decision. The completed application packet must be submitted by the deadline (January 30, 2015) and include the one-page
application form
, an unofficial college transcript, a written recommendation from the honors administrator at the home institution (which must be a current VCHC member), a personal student narrative of no more than 1200 words that in large part answers the questions, "How has your participation in Honors enriched the program, the campus, and the community? How has it changed your life?," and a signed copy accepting the
terms and conditions of the award
.
Applications will be accepted from January 1 through January 30, 2015. The student selected for the award will be chosen by the current executive board of the VCHC, and the recipient of the award will be notified on or before March 2, 2015. All components of the application, including the strength of the recommendation as well as the written quality and authenticity of the personal narrative, will be considered.
The recipient of the award will receive a $500.00 cash award, complimentary spring conference registration and lodging, and inclusion of their winning scholarship essay in the 2015 Proceedings of the Virginias Collegiate Honors Council. The recipient will also receive further acknowledgement at the spring conference by addressing his/her peers on the topic of being a part of an Honors community and what that means to him/her.
Please contact Honors Scholar of the Year Committee Chair, Dr. Paul Fitzgerald (pfitzgerald@nvcc.edu / 703-323-2442), with any questions you may have regarding this opportunity for your best and brightest student.
---
The Virginias Collegiate Honors Council (VCHC), now more than twenty years old, joins universities, colleges, and community colleges throughout Virginia and West Virginia to support and enhance programs and activities to meet the needs of exceptionally talented and motivated students.
The mission of VCHC is to:
provide a forum for sharing information about honors programs,
provide students with greater opportunities for intercollegiate honors programs activities,
collaborate with regional and national organizations which have similar goals,
encourage articulation between two- and four-year honors programs, and
increase public and private awareness of and fiscal commitment to honors programs and projects.